Now accepting clients due in 2024
Testimonials
What My Clients Have to Say
"Brooke was a great guide through all of the Evidence Based Birth® Childbirth course material and included her own experiences as a doula."
Samantha + Brittany – Manheim, PA
"By my side through it all, Brooke had a gift for simultaneously validating my experience, bringing perspective, and helping me find the clarity and peace I needed. All while bringing her thoughtful, well-practiced wisdom and understanding of birth to the forefront."
Kristen + Jeff – Conshohocken, PA
"Brooke was super patient and so knowledgeable and would take her time with me step-by-step!"
Mackenzie + Sam – Bensalem, PA
"Brooke is the reason I was able to have the birth I was dreaming about!"
Amanda + Jonathan  – New Jersey
"What Brooke does for a living can only be described as the work of a saint…"
Naveena + Raja – Lambertville, NJ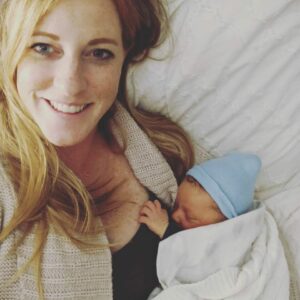 I feel so lucky to have found Brooke as my Doula.
Brooke helped ease my anxiety after having an incredibly challenging delivery with my first. Brooke was very empathetic and sensitive to my birth story and my feelings around it. She was incredibly knowledgeable in regards to the mechanics of labor. She explained what she suspected were some of the problems with my first labor and how she planned to prevent them from happening again with this second pregnancy. I'd chosen to have a hospital birth, and she arrived so quickly after our initial call. She came prepared with beautiful twinkly lights and birth affirmations, which she hung in our room. She dimmed the lights to provide a more calming ambiance. She came prepared with so many helpful birth tools- a multitude of positioning suggestions, the TENS unit (which was AMAZING), counterpressure/massage, spikey balls to squeeze in my hands to distract me from the pain, and the rebozo scarf. At one point, my son had flipped and was on the right side (which was what had happened with my daughter), and she was able to use the rebozo to help flip him back to the left side! She was an advocate for me with the nursing staff and my midwife. She heard my concerns and my wishes and was so respectful of all aspects around my birth. I can't express how grateful I am for her services. My birth ended up being 8 hours with pushing for about 15 minutes, a drastic difference from my first, which was 65 hours and 2.5 hours of pushing. I felt as though the entire process was SO healing, and I am so pleased with how everything went. We could not have had this outcome without Brooke!
Kimberly + Dave  – Plymouth Meeting, PA  – Einstein Medical Center Montgomery/WomanWise Midwifery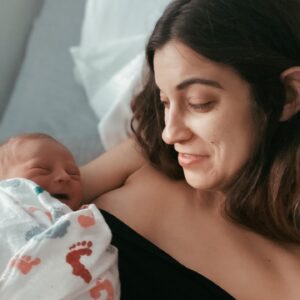 To my guardian angel, Brooke.
Guidance, support, and connection made all the difference during my pregnancy, especially during my labor & delivery. To my guardian angel, Brooke. Our story goes way back to childhood, and ironically the universe crossed our paths 20 plus years later to help foster my birth with courage, determination, and love. It's important to note that it doesn't matter how you give birth. We all have our own story, but it is important to play an active role in it.
Brooke, we need more of you in this world. You helped me focus on the beauty of giving birth. You made the pain & intensity seem meaningless. You reminded me that it's only temporary and to picture myself moving through each contraction with my babe. You never made me feel alone. You made me feel empowered, and what a hell of a woman I am. I'm forever grateful for you, your work, and your passion for birth education. So much love for you!
Amanda + Matthew  – Lansdale, PA – Einstein Medical Center Montgomery/Philadelphia Midwife Collective
Brooke guided us along the journey, keeping us both mindful of our ability to take ownership of the birth process and of the need to embrace the unpredictable nature of pregnancy and delivery.
At a time of great joy and uncertainty, I found empathy, wisdom, and support (so much amazing support!) in Brooke. From the first time I spoke with her, I knew she was the loving, fierce advocate I wanted by my side as I prepared to welcome my second daughter into this crazy world… my "mama bear" companion.
Being pregnant with my second child, in the midst of a pandemic, proved itself to be a beautiful and overwhelming challenge. Many weeks into my pregnancy, inching closer and closer to my due date, my emotions raged as I had big decisions to make. Where was my baby going to be born? Did I feel safe going into a birthing center or hospital? Could I really be strong and brave enough to deliver this baby at home?? There by my side through it all, Brooke had a gift for simultaneously validating my experience, bringing perspective, and helping me find the clarity and peace I needed. All while bringing her thoughtful, well-practiced wisdom and understanding of birth to the forefront. As my husband and I moved forward with plans for a natural homebirth, we were never alone. Brooke guided us along the journey, keeping us both mindful of our ability to take ownership of the birth process and of the need to embrace the unpredictable nature of pregnancy and delivery. After weeks of challenging prodromal labor contractions (again, thank you, Brooke, for helping me ride this wave!), she was there for us the night I went into labor. I felt prepared, empowered, and excited to be in this moment ( And boy was I grateful for the TENS, I sure do LOVE the TENS!)  Brooke was there to love on and support my family and me throughout labor, helping me feel safe and protected. After a powerful, beautiful labor,  Brooke continued to offer gracious support as we embraced life as a family of four. I am forever grateful for Brooke. For her gentle encouragement, her supreme knowledge and love of all things pregnancy and birth, and her ability to help me believe deeply and surely in the abilities of myself and my baby.  (photo cred:  @lmmphotobyrobin)
Kristen + Jeff – Conshohocken, PA – home birth/Midwifery Traditions
You can't go wrong choosing Brooke to attend your birth.
I've worked with many doulas in my years as a midwife (since 2002); Brooke is top-notch. She knows exactly what she should be doing at all times and asks how she can help if she is free. I highly recommend her to my clients. She's a pleasure to work with for many different types of parent personalities. You can't go wrong choosing her to attend your birth.
Kate Aseron – CPM – Chester Springs, PA – Rising Moon Midwifery
The best way to describe what Brooke meant to us is that she was someone we could trust and lean on in the most difficult of times and know that she would be there and help in ways we could not even think to ask.
We started working with Brooke in the first trimester, and it was our first pregnancy. She was recommended by our naturopath as we wanted a natural, home birth. Brooke was able to walk us through choosing the right provider, asking the important questions, that I was doing everything I could to be healthy. We immensely enjoyed her childbirth class. It was with only two other couples, so we had ample time to ask our questions, and it felt intimate enough to share personal details, hopes, fears, and even make friends. All of this is exceptional in itself, and it would have exceeded our expectations, but what happened next was truly life-saving. I ended up having a placental abruption at 35 weeks and had to have an emergency C-section in a hospital I had never been to and in the lockdown because of the pandemic. We had not prepared our home for the baby yet, and we did not have anything with us when we rushed to the hospital in the middle of the night. Brooke not only provided constant emotional support and invaluable information about how to communicate with the doctors and other providers in this unexpected situation, but she also used the postpartum time we booked to completely organize our nursery and prepare the home for our return after two weeks in the NICU. She also put together hospital bags for my husband and me as we could not leave the hospital because of the lockdown. She came to the hospital multiple times, brought nourishing food, and it was the highlight of my whole day when I could glimpse Brooke over her face mask at the far end of the hospital reception. All of this while taking care of other clients and her family as well, who were all home because of the virus as well. The best way to describe what Brooke meant to us is that she was someone we could trust and lean on in the most difficult of times and know that she would be there and help in ways we could not even think to ask.
Sofija & Emilijan  – Furlong, PA  – St. Mary Medical
There are not enough kind words to express my gratitude for Brooke's support while giving birth.
My husband and I decided we wanted a bigger family, a sibling for our son. We were overjoyed when the pregnancy happened. Then, we realized that another baby could mean another c-section. I couldn't comprehend the idea of a surgical recovery while taking care of a toddler, so I opted for a VBAC. A friend suggested hiring a doula. Initially, I was skeptical at having a stranger on at one of the most intimate moments of my life. My husband thought the extra support would be great. After our first conversation with Brooke, I knew this was exactly what I needed to support my through my VBAC goals. From the beginning, Brooke offered suggestions along with plenty of evidence and rationale to support her ideas. She allowed me the space to make my own informed decision and respected my choices. We met with her twice for prenatal visits. She reviewed techniques we could use to help me labor at home. Brooke was always just a phone call or text away when I had questions during the pregnancy. On my actual day of delivery, Brooke was a guardian angel for my husband and me. There were several times that I was scared with each curveball and change of labor. But, Brooke's reassurance, guidance, and support helped us to continue to navigate towards the goal of a vaginal birth. She has such a calm and gentle way of guiding you exactly where you need to be in the moment. I can't imagine what this whole experience would have been like without her, I truly would have been lost. My husband and I believe that choosing to work with Brooke is one of the best choices we have ever made. There are not enough kind words to express my gratitude for Brooke's support while giving birth.
Leah & Alex R – Robinsonville, NJ – Penn Medicine – Princeton Health
Brooke came into our lives as a postpartum doula when I needed it the most.
My preemie with reflux hardly slept, leaving me both physically and emotionally exhausted. Brooke came in and helped me in any way I needed. Most importantly my infant and three-year-old both took to her immediately. I too connected to her, which gave me the security to practice self-care while she was here, something I desperately needed. She was also an amazing source of information, a baby guru for sure. I trusted her opinion and advice on any issue I brought to her attention. She also never overstepped, having her in our home felt natural. She became a part of our family while here. The only downside is that we couldn't keep her!
Sarah & Youseff  – Riegelsville, PA
I cannot recommend Solace Birth Services enough to anyone interested in Childbirth Education classes, a birth doula, and/or a postpartum doula.
I met Brooke in Childbirth Education Training, where I observed her sincere passion for all things pregnancy, birth, and postpartum. I learned a lot from her as we went through training together, and was thrilled to find out she was available to be my doula. Connecting with her is easy, she is warm, listened intently, and gave thoughtful responses to my questions, concerns, and thoughts. I was incredibly impressed by her intuition- she anticipated my needs in labor before I even voiced them and was always right. It felt like she was reading my mind she was so in-tune with my labor progress. Because my baby arrived early, we hadn't even had a chance to talk over my birth plan or preferred comfort measures in-depth, but Brooke gave excellent suggestions and supported me in the exact ways I needed. I'll never forget her whispering in my ear "you are about to meet your baby," two pushes later, I had my baby in my arms. She made the experience truly meaningful and beautiful, I am incredibly grateful for her.
Jordan & Brian – Lawrenceville, NJ  – Penn Medicine – Princeton Health
I hired Brooke in my 27th week of pregnancy and it was the best decision for me and my husband…
I intended to have a natural birth in a hospital but ended up with an unplanned c section – Brooke was great during my prenatal period – she was always so prompt with email and text which was very important to me — she was really outstanding during my actual delivery – she stuck with me (either in person or via phone) for the 3 days I was in labor – while I felt helpless at times I never felt alone and always felt supported – with her there I was able to make my own decisions regarding my medical treatment and not feel rushed or overlooked – I highly recommend anyone who is looking for some extra support to consider Brooke's services – my husband and I are forever grateful ?
Priya & Arup – Princeton, NJ – Penn Medicine Princeton Health
You can tell that this is something she's passionate about and puts her entire soul and being into her work.
I did not have the honor to have Brooke beside me as I gave birth to my baby because I gave birth in the car on the way to our birth center but I was lucky enough to experience the overwhelming amount of support that she provides when I had false labor. Two days before my daughter was born, I drove to the birth center with strong contractions that gradually slowed and stopped. During the few hours that I was there, Brooke immediately went to work to make sure I was comfortable, implementing ALL of the methods that we discussed prior in our meetings to help bring our baby earthside as easily and naturally as possible. She arrived at the birth center before we did and made sure our room was ready and that we had everything we needed. The level of involvement and care she provides is unparalleled to any of the doulas that I have spoken with. You can tell that this is something she's passionate about and puts her entire soul and being into her work. She was always easy to reach and always answered any questions and concerns we had within minutes. The morning I gave birth, I called her and stayed in contact with her as we decided to head to the birth center. She was with my husband on the phone as he delivered our baby in the backseat of our car. I cannot put into words how grateful I am for her support and I wholeheartedly recommend her to all pregnant mamas. She's a walking encyclopedia when it comes to pregnancy, labor, delivery, babies. Very knowledgeable. Definitely would come to her again.
Anna & Andrew  – Warminster, PA  – LifeCycle WomanCare/Bryn Mawr
She stayed with my mom and me all day and was a great source of support and comfort.
After hiring her, we took her childbirth classes to prepare for the birth of our first baby. Not only did we learn a TON, but it was also a great way to get to know her outside of our prenatal appointments.
After all of our preparation, my daughter ended up coming unexpectedly at 35 weeks via emergency c-section. Brooke and I had been texting that morning about some concerns I had, but it happened so quickly that we barely had a chance to call her before I was whisked back for surgery. Much of that day is a blur to me, but what I do remember is that Brooke was waiting when I got back to my recovery room. It was not what we planned or how we imagined our partnership would go, but let me tell you I was so thankful to have her by my side while my baby was transferred to another hospital. She stayed with my mom and me all day and was a great source of support and comfort, especially since my husband had gone to be with our baby.
I really can't say enough good about our experience and I will definitely hire her again for any future births. No matter how you choose (or don't choose in my case) to deliver your baby, Brooke will be a rock for you. Highly recommend!
Kirsten & Ronnie – Bristol, PA – St. Mary Medical Center (Langhorne, PA)